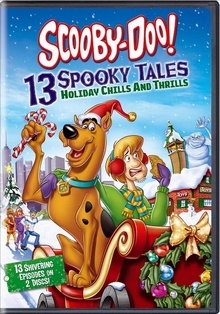 Scooby-Doo! Haunted Holidays is the Christmas special based upon the Scooby-Doo Franchise. It was released on October 16th 2012 on the Scooby-Doo! 13 Spooky Tales: Holiday Chills and Thrills DVD. It premiered on Cartoon Network on December 4th 2012.
The snow is falling, and a chill (and plenty of thrills!) is in the air – it's wintertime with Scooby-Doo! Scooby-Doo and the gang have a merry mystery to solve in the all-new episode Scooby-Doo! Haunted Holidays! An aged-old curse is threatening the Menkle family toy store – the curse of the sinister snowman! It's up to the Scooby-Doo! crew to unwrap this sinister plot and save the toy store. Can they stop the menacing snowman before it's too late?! 
Home Media
Edit
Ad blocker interference detected!
Wikia is a free-to-use site that makes money from advertising. We have a modified experience for viewers using ad blockers

Wikia is not accessible if you've made further modifications. Remove the custom ad blocker rule(s) and the page will load as expected.