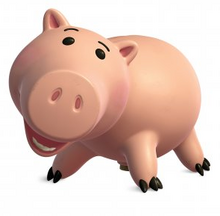 Hamm is a supporting character of the Toy Story Movies.
Personality
Edit
Physical Appearance
Edit
Toy Story
Edit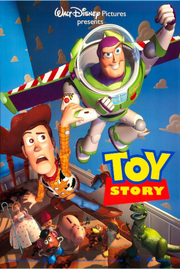 Hamm had a minor appearance in the first film. He is first seen during Andy's playtime in the beginning of the film, representing the safe that the robber was taking money from. His first speaking appearance was when Mr. Potato Head, after attempting to repair himself due to an incident with Molly, tells tries to depict himself as Picasso, although Hamm doesn't understand what he is talking about, causing Mr. Potato Head to call him an "uncultured swine." Later, during the unplanned staff meeting, Hamm expresses irritation that Woody would ask them if they found a moving buddy. He also expresses irritation when he learns that Ms. Davis moved Andy's birthday to that day instead of the next Wednesday, asking if she lost her marbles. He eventually interrupted the meeting to inform them that the birthday guests are arriving. He later listens in on Sarges' reports about any gifts Andy got, also expressing shock at Andy getting a lunch box, although he and the other toys celebrated when the final present was revealed to be a game of Battleship, also accidentally knocking Mr. Potato Head's pieces over, causing him to call him "hero spudhead." However, after a breaking report where it was revealed that Andy had a surprise birthday present and Rex ended up inadvertently breaking the baby monitor, Hamm ended up blaming Rex for breaking the baby monitor, and also attempted unsuccessfully to fix it by placing the batteries back in (forcing Woody to directly take over the job). He eventually returns to his place, coming out when the coast is clear, eventually meeting Buzz Lightyear.Eventually, when Sid was heard laughing, Hamm speculated that Sid may have had trouble getting into camp this year for why he was at home, also observing what Sid frequently does with the other toys. After Woody accidentally knocked Buzz out of the window and was exposed as having done so, Hamm expressed distrust of Woody and hinted that they should throw Woody out of the window both because of what they thought Woody did and to not give him a chance at doing the same to them, although he and the other toys weren't able to do this before Andy came back into the room. He and the other toys later tried to search for Buzz with the flashlight, although they were irritated when the entity they thought was Buzz was actually Whiskers the cat. After Hamm learned that Woody also disappeared, he mentioned he had it coming. Later, Hamm and Mr. Potato Head were playing Battleship, and had apparently won Mr. Potato Head's hat from a previous match, and was requesting he get Mr. Potato Head's nose for losing to him again when they discovered Woody was nearby. He then ordered everyone to get over there due to Woody being at Sid's house. However, after Woody was found with Buzz's detached arm, Hamm assumed the worst and left him to his fate. After Woody boarded the Eggman Movers truck, Hamm, after Woody apparently tried to leave RC behind, Hamm and the other toys attacked him, with Hamm proceeding to lay a "pig-pile" on Woody (also causing RC and Buzz to literally jump in the air), eventually succeeding in throwing him out of the truck, although he later tried to help them when they discovered he was actually telling the truth. During Christmas, Hamm listened in to the Christmas gift announcements, with Hamm himself congratulating Mr. Potato Head for Molly getting a Mrs. Potato Head.
Toy Story 2
Edit
Toy Story 3
Edit
Toy Story 4
Edit
Toy Story Treats
Edit
Buzz Lightyear of Star Command
Edit
Buzz Lightyear of Star Command: The Adventure Begins
Edit
Toy Story Toons
Edit
Toy Story of Terror
Edit
Ad blocker interference detected!
Wikia is a free-to-use site that makes money from advertising. We have a modified experience for viewers using ad blockers

Wikia is not accessible if you've made further modifications. Remove the custom ad blocker rule(s) and the page will load as expected.